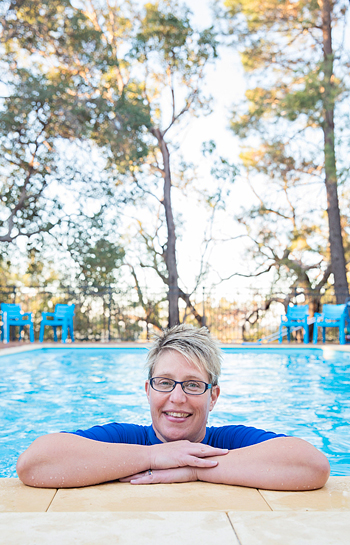 Hi, I'm Cathy Burbridge, your award-winning swimming teacher. I am very proud to announce that I won the WA Austswim Teacher of Swimming and Water Safety Award 2016!
I have been an Austwim qualified swimming teacher since 2010. I hold three teaching qualifications: Teacher of Swimming and Water Safety; Teacher of Infant and Preschool Aquatics; and Teacher of Adults.
I love teaching people of all ages and abilities to swim. Australia is a place where water activities play a huge part in many people's lives and yet many of us haven't yet acquired the skills to fully enjoy this aspect of our culture. Water safety is a particular passion of mine. Safety skills are the bones on which I build my lessons. So much so that I devote a week a term working purely on a water safety theme such as boat safety, beach safety, river safety or similar. Sometimes it can be an eye opener to try out the skills you learn every week in a different situation.
I have been lucky enough to be awarded for my endeavours in the water safety and teaching fields. Beside my recent 2016 award, in 2012, in Victoria, the water safety program I co-ordinated and managed won the 'Most Innovative Program' at the Aquatics and Recreation Victoria (ARV) awards night. ARV is Victoria's peak industry body for aquatics and recreation. At the same awards ceremony I was privileged to be a finalist for the 2012 Victorian Teacher of Swimming and Water Safety award.
Having worked for other centres in the past, it was always my dream to open my own home business where I can combine my love of teaching with my family life. Finally (after rather a few obstacles) I am in that position! I have been able to build a brand new, state of the art, heated salt water 10m x 5m pool, designed the way I want it. I also employ two wonderful teachers to help me out. Liz and Abigail bring the same passion and commitment and care for you and your family as I do. We all teach in the same style, so if your child changes teachers the routines are the same.
I firmly believe that teaching babies, young children and adults in a home environment will enable them to feel immediately comfortable, less distracted and for some people, less self-conscious. And even though the pool is at my house, there is a separate entrance and separate change room, too – all to maintain the sense of privacy and professionalism any learner or their carer may ask for. On top of this, you will be enjoying the most magnificent bush views in the world. If you're lucky, one of our local family of kangaroos might turn up to see what's going on!